Geylang Serai Shopping
Your Next Shopping Spree
Geylang Serai is the cultural hub of the Singapore, Malay community. If you take an up- close look you will realize that the city shows the age. When strolling down this ancient city you can recapture the old days of Geylanga Serai. The area is frequently visited tourist destination in Singapore as the area is known for its outstanding nightlife and natural charm. Apart from that it is also branded as a thriving shopping district in Singapore.
Those of you that are looking for places to shop in Geylang Serai, then the most place to shop is the Geylang Serai market. Just like all the other areas in Singapore, Geyland Serai market too has to undergo a refurbishment programme four years ago. Some people believe that the face lift failed to give the city the traditional charm it used to possess but certainly the market is a more organized and a cleaner place now.
The market sells a widespread mixture of items from fabric, home ware, handicrafts and souvenirs to food. There are some shops solely catering to the Muslim community with colourful shalwars, kurthas and headscarves. Apart from this wide variety of goods, the Geylang Serai Wet Market also sells seafood, fruits, vegetables and the market is commonly known for spices or curry flavours it sells. This is the ideal place to get your curry flavours when making Eastern dishes such as Indian, Sri Lankan, Thai and Malay. Although you are not interested in buying spices from this market, you must at least taste few dishes made in this area and taste the flavours of these spices.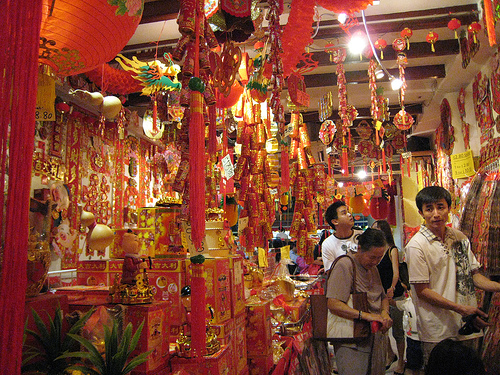 Another popular shopping complex in Geylang Serai is Joo Chiat shopping complex and the street shops in Joo Chiat Road. This is an ideal hotspot to purchase readymade clothes, textiles, cosmetics, jewellery and other accessories. The Joo Chait shopping complex too is a trendy and bustling mall in the district. Similar to Geylang Serai, Joo Chiat too has shops which are reasonably priced.
 
If you are on vacation in Singapore, Geylong Serai is the ideal place to enjoy and experience the night life of Singapore. If you are looking for a comfortable
Hotel in Robertson Quay
, one of the perfect options you have is Studio M Hotel Singapore, which is branded to be a luxury
Singapore hotel
with all modern amenities and stylish atmosphere.